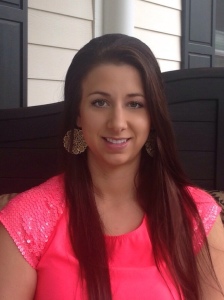 I have been designing and making clothes since I got my grandmother's old sewing machine at age 13. I started by taking my old clothes and fabric laying around the house and making little tops for myself and my friends. In high school I went to The Academy of Arts Science and Technology in Myrtle Beach and majored in Art with a focus on Fashion. I then took my next step towards my dream of being a designer by going to Savannah College of Art and Design, where I graduated with honors with a BFA in Fashion Design this past June. While at SCAD my designs were featured in SCAD's Static Fashion Show. I also designed a 6 look collection for a fundraising benefit fashion show "Three Coin's for Kenya" held in a Boutique on King Street. I also did a live feature on Low Country Live in March 2013 where I showcased a dress that I designed and made using the fabric form vintage consignment dresses.
My goal has been to participate in Charleston Fashion week since I went to the Emerging Designer show in 2011… I am so excited that I am finally here and making my goals reality.
The collection I designed for CFW is a RESORT 2016 collection entitled Gardens of Versailles. I began designing with a vision of ethereal angelic models in soft flowing gowns walking down the runway. It's this utopic feeling that I got as I listened to "Shadows" by Lindsey Sterling and started to sketch silhouettes. In my vision I saw the runway as a sidewalk through the most blissful garden so I began to research gardens all over the world. It was in the SCAD library where I found a book of the Palace of Versailles and I was captivated by the alluring opulence of the Palace and its vast gardens. The aerial images of the palace gardens were so beautiful and interesting I knew I would have to incorporate them into my designs. I created tricolor prints using the aerial maps of the gardens. I used the finest silk fabrics and finished the garments with embellishment to match the luxuriousness of the palace. My color pallet came from the brightest colors of the most exotic flowers.
In short:
This Resort 2016 Collection is inspired by the Palace of Versailles. The ethereal silhouettes and lavish embellishments give the designs the luxurious feel you would expect from Versailles, while the bold prints derived from maps of the Palace gardens, make the collection modern and eye-catching.
Some designers that I find influential to my designs are Elle Saab, Carolina Herrera, Versace, and DVF resort.